Netflix is the top source for streaming content after decades of sending DVDs and redefining the entertainment sector. Netflix continues to rule the streaming market like no other, thanks to recent hits like Wednesday, The Diplomat, and The Night Agent as well as blockbusters like The Grey Man and the Oscar-winning All Quiet on the Western Front.
The action film The Mother starring Jennifer Lopez and the release of Arnold Schwarzenegger's first TV series, Fubar, on Netflix in May 2023 are both expected to maintain that dominance. In addition, the smash Sony dramedy A Man Called Otto with Tom Hanks and the Bridgerton offshoot Queen Charlotte will both make their debuts. There is something for everyone, so we've bolded our picks below.
May 1
● Above Suspicion
● Airport
● Airport '77
● Airport 1975
● American Gangster
● Austin Powers in Goldmember
● Austin Powers: International Man of Mystery
● Austin Powers: The Spy Who Shagged Me
● Black Hawk Down
● The Cable Guy
● Captain Phillips
● Chicken Run
● Cliffhanger
● Conan the Barbarian
● The Croods
● The Curious Case of Benjamin Button
● Dawn of the Dead
● Flight
● For Colored Girls
● Girl, Interrupted
● The Glass Castle
● Home Again
● Hop
● Igor
● Kindergarten Cop
● Last Action Hero
● Legends of the Fall
● Lemony Snicket's A Series of Unfortunate Events
● Léon: The Professional
● Marshall
● Paranormal Activity
● Peter Pan (2003)
● Pitch Perfect
● Rainbow High: Season 3
● Rugrats: Seasons 1-2
● The Smurfs: Season 1
● Starship Troopers
● Steel Magnolias
● The Tale of Despereaux
● This Is the End
● Traffic
● Vampires
● The Wedding Date
● The Young Victoria
May 2
Netflix's Love Village series
Singles 35 and older from varied backgrounds move to a home in the country in an effort to find love again. Will they locate "the one" or will they leave them be?
Netflix's The Tailor series
A renowned tailor starts making a wedding gown for his best friend's fiancée, but all three of them are hiding something that will eventually turn their lives upside down.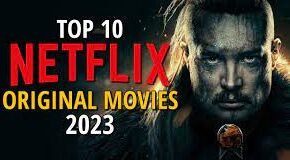 May 3
Netflix series: Jewish Matchmaking
Jewish Matchmaking, a new show from the creators of Indian Matchmaking, follows singles in the US and Israel as they entrust their love lives to renowned Jewish matchmaker Aleeza Ben Shalom. Will they be able to find their soul mate in the modern world by using the conventional shidduch dating method?
Season 7 of the Netflix series Juniors of the Great British Baking Show
More challenging Technical, dazzling Showstoppers, and incredibly gifted children are brought to the great white tent for a new season. Get ready, set, go, bake!
May 4
Polar Dogs
Netflix Family: Larva Family
The Larva clan is expanding! Red and Yellow are given a crash education in parenting and all things disgusting when they take in a newborn caterpillar.
Netflix's Queen Charlotte: A Bridgerton Story
In this prequel set in the Bridgerton universe, the marriage of the young Queen Charlotte to King George of England sets off an epic love tale and changes high society.
The Netflix series Sanctuary
Unsettling a tradition-rich profession, a rough, needy child who becomes a sumo wrestler wins over fans with his brash attitude.
May 6
A Man Called Otto
May 8
Seasons 1 and 2 of Justice League
Seasons 1 and 2 of Justice League Unlimited
Netflix's second season of Spirit Rangers Family
At Xus National Park, Eddy, Summer, and Kodi are back in action, learning about nature while having fun adventures with new guests and old friends.
May 9
Season 4 of Documentary Now!
Netflix's Hannah Gadsby: Something Special Comedy
Hannah Gadsby, a stand-up comedian and recipient of Peabody and Emmy Awards, is back with her third Netflix Comedy special, Something Special. Seriously. The comedian discusses a wedding (theirs! ), numerous unpleasant encounters with a bunny, and much more in this witty and, dare we say, feel-good show. Something Special, which was filmed at the Sydney Opera House, makes its global Netflix debut on May 9.
May 10
Netflix's Dance Brothers series
Two brothers who are aspiring dancers create their own club, but their desire for the arts quickly conflicts with the demands of the business, endangering their friendship.
Netflix Documentary: Missing: Dead or Alive?
Follow deputies from a sheriff's office in South Carolina as they conduct an urgent search for people who have vanished under alarming circumstances.
Netflix's Queen Cleopatra documentary
A documentary series examining the lives of well-known and recognizable African Queens is the brainchild of executive producer Jada Pinkett Smith. The most well-known, influential, and misunderstood woman in history—a brave queen whose beauty and romances eventually overshadowed her genuine strength—her intellect—will be featured in this season. The history of Cleopatra has been the focus of intense academic discussion, which Hollywood frequently ignores. Our series is now reconsiders this intriguing section of her narrative.
May 11
Princess Margrethe: Royalteen, a Netflix Original
Princess Margrethe yearns for normalcy after her prom incident as she fights to uphold her flawless persona while coping with family issues.
Saint Vincent
Season 3 of the Netflix anime Ultraman
In this thrilling series finale, Shinjiro discovers that his inherited powers could have a high cost as public opinion turns against Ultraman.
May 12
Netflix's Black Knight series
The Black Knights are essential to humanity's existence in a dystopian 2071 plagued by air pollution, and they're not your typical deliverymen.
Phone Me Kate
The Mother, a movie on Netflix
A powerful female assassin emerges from hiding to save the daughter she abandoned years earlier while evading dangerous men.
The Netflix series Mulligan
Can a few survivors in this satirical comedy rebuild what's left of America and create a more ideal union after aliens decimate most of Earth?
Season 7 of the Netflix series Queer Eye
Join the Fab Five in New Orleans for a brand-new season of heroic role models and stunning before-and-after photos.
May 13
UglyDolls
May 16
You Don't Know Me, a Netflix documentary on Anna Nicole Smith
This documentary tells the story of Anna Nicole Smith from the heights of her modelling success to her terrible death from the perspectives of those who knew her best.
May 17
The Netflix movie Faithfully Yours
Two pals slip away to engage in illicit relationships while using each other as alibis, but when one of them goes missing, their sophisticated web of deceit falls apart.
Fictional film on Netflix
Two high school kids develop a strong bond as they work through the difficulties of finding and expressing their genuine selves.
3.0 of La Reina del Sur
Netflix's McGregor Forever documentary
Conor McGregor begins the most significant year of his career, competing three times while attempting to reclaim the top spot in the UFC. This show will provide viewers an up-close and personal look at this divisive superstar and the background that led him to where he is now.
Netflix Series: Rhythm + Flow France, Season 2.
In this competition judged by Niska, Shay, and SCH, a new group of aspiring musicians competes for a 100,000 euro reward and the right to French rap fame.
What about your job gives you joy? What motivates you? What really constitutes a good job? These are the central concerns of the engaging documentary series Working: What We Do All Day, which examines how we find purpose in our work and how our common experiences and challenges bind us as people. The series, which is narrated by President Barack Obama and features appearances by regular people in their homes and workplaces, follows people at all levels of the workforce, from entry-level positions all the way up to the C-suite, in the home care, technology, and hospitality sectors.
Obama was motivated by Studs Terkel's 1974 book Working, which transformed the debate surrounding work by inquiring about the daily activities of regular people. The show gives viewers a fresh perspective on and appreciation for the work that people undertake on a daily basis by providing intimate, behind-the-scenes portrayals of people's lives. Working: What We Do All Day is a Higher Ground and Concordia Studio Production is executive produced by Barack and Michelle Obama and is directed by Caroline Suh.
May 18
Netflix Family Kitti Katz
While still having time for football practise, three adolescent girls turn into fearsome feline superheroes to save the world from a wicked Egyptian goddess.
Netflix's XO, Kitty series
When adolescent matchmaker Kitty meets her long-distance beau again at the same Seoul high school that her late mother attended, a new love tale begins.
Netflix series titled Yakitori: Soldiers of Misfortune
The only way for Akira to have a better future now that an advanced extraterrestrial society has colonized Earth is to enrol as a disposable Yakitori foot soldier.
May 19
Netflix's Astérix & Obélix: The Middle Kingdom Film
Asterix and Obelix, two immortal companions from Gallica, travel to China to aid Princess Sa See in defending the Empress and her realm from a villainous prince.
Netflix movie Kathal: A Jackfruit Mystery
A determined cop's search for the truth leads her to two cherished jackfruits that vanish from a politician's garden, and her investigation takes an unexpected turn.
Netflix series Muted
Since he murdered his parents six years ago, Sergio has been silent. Now, a psychiatrist is trying to figure out what happened by conducting a bizarre inquiry.
Netflix series "Selling Sunset: Season 6"
Stilettos and stakes are higher than ever at the brokerage as two new team members turn up the heat and longtime agents make significant adjustments.
Netflix Series: Young, Famous & African, Season 2.
The celebrity gang has returned, and they are ready to fight. Come along as the celebrities return to Johannesburg for another season of entertainment, conflict, and drama.
May 22
Seasons 1–5 of The Batman
The Boss Child
Chapter 3 of The Creature Cases: Netflix Family
Sam and Kit are back with new cases, new rides, and new animal friends to gather the evidence and solve more animal mysteries from across the globe!
May 23
Season 5 of All American
Netflix Documentary: MerPeople
The fascinating world of underwater entertainers who have made a living out of their passion for enigmatic aquatic species is explored in MerPeople. This series will take you on a journey of passion and tenacity, from performing in spectacular small-town events in Florida to the crowning of the King and Queen of the Seas in the Bahamas. Prepare to embark on an extraordinary journey and lose yourself in a world where dream comes true.
Victim/Suspect: A Documentary on Netflix
When a journalist investigates the case of a woman accused of fabricating a rape, a pattern of authorities turning the tables on victims becomes apparent.
Netflix comedy Wanda Sykes: I'm An Entertainer
Wanda Sykes, a legendary actress, producer, and comedian, is back for a second hour-long Netflix Comedy special. Sykes, known for her social commentary, shares her incisive and savage humour and candour that audiences have come to know and love on topics including raising Gen Z kids and the difficulties of being a liberal in a highly charged political environment.
May 24
Netflix film Hard Feelings
Despite their highly inconvenient feelings for one another and their embarrassing new cravings, two closest friends strive to get through high school.
The Mother's Day Netflix movie
Former special agent Nina dusts off her lethal skills to rescue the son she's never known when he is kidnapped, no matter who stands in her way.
Season 2 of the Netflix series Rhythm + Flow France (new episodes)
In this competition judged by Niska, Shay, and SCH, a new group of aspiring musicians competes for a 100,000 euro reward and the right to French rap fame.
Netflix's The Ultimatum: Queer Love
Get married or call it quits? This queer-focused spin-off of "The Ultimatum: Marry or Move On" places five long-term relationships under pressure to be married or separate.
May 25
Fubar: A Netflix Original
A father and daughter realize their entire relationship has been a deception and they really don't know one another at all when they discover they've both been working as CIA agents in the shadows for years. The show, which deals with universal family problems against a backdrop of spies, action, and humour on a global scale, forces partners to work together.
May 26
Netflix Series: Season 2 of "Barbecue Showdown"
For a new round of intense competition amongst eight of the top barbecue chefs in the nation, new host Michelle Buteau (The Circle) joins the judges.
The Netflix movie Blood & Gold
A German deserter and a young woman are dragged into a deadly confrontation with a group of Nazis looking for buried riches towards the conclusion of World War II.
Unclean Grandpa
The Netflix movie Tin & Tina
A young couple adopts two odd twins from a convent after suffering a painful miscarriage, and the children's fascination with religion soon causes problems for the family.
Netflix series Turn of the Tide
When a ship carrying cocaine wrecks off the coast of the Azores, Eduardo sees it as a perilous but exhilarating chance to gain money and realize his unachievable goals.
Read More: Do you share a Netflix account? That's about to be banned
May 30
Netflix comedy series I Think You Should Leave with Tim Robinson, season 3.
I Think You Should Leave with Tim Robinson, a critically acclaimed and hysterically absurdist comedy series, is back for a third season. The show's creators and writers, Tim Robinson and Zach Kanin, continue to make fun of life's most absurd and uninteresting circumstances while showcasing their distinct comic style and observational humour.
May 31
15th season of Heartland
Netflix film, "Mixed by Erry"
An wannabe DJ and his two brothers become surprisingly powerful record producers sought after by the law while smuggling their own mixtapes in Naples in the 1980s.
Season 2 of the Netflix series Rhythm + Flow France (new episodes)
In this competition judged by Niska, Shay, and SCH, a new group of aspiring musicians competes for a 100,000 euro reward and the right to French rap fame.
Netflix series The Ultimatum: Queer Love (new episodes)
Get married or call it quits? This queer-focused spin-off of "The Ultimatum: Marry or Move On" places five long-term relationships under pressure to be married or separate.
Read More: Netflix plans to add roughly 40 more titles to its mobile game library this year